Get outside for 30 Minutes Daily!
Although it can be a bit of a strain to get out, when you first are outside, with good clothing, it always feels better than you thought it would. You feel refreshed, you feel maybe a little bit robust and vital, and you feel the benefits of being in contact with the elements.           Ida Solhaug
Getting outside and staying active is vital for health.  Fresh air, sunlight, and fantastic endorphins are great reasons to get outdoors.  In Canada, we pride ourselves in being resilient and adapted to handle the weather.
Follow Dr. Pain here as he outlines ways to be fit outdoors.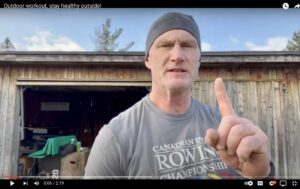 In the video, he explains how a recent study shows getting outside for only 29 minutes can increase our productivity by 45%!  Anyone can take 30. minutes to get outside, and feel better and more productive in. the process!
In the video, Dr. Pain describes a workout he did recently, combined ing some heavy weight training doing heavy power cleans) with a little workout mix.  The workout, which was 3 X a 400 meter run, 500 meter row, and 30 burpees, with a bit or rest in between each round, could be modified and done by anyone.  Watch the video, and if you have any questions, please reach out and he will be happy to help!!